Back on August 17th, I published an article predicting that the strong housing market, increasing home improvement and renovation activity during the pandemic and rising lumber prices would benefit Canadian lumber stocks. Although no longer a secret, there remains plenty of upside in the stocks as the high lumber prices work their way into earnings for the sector.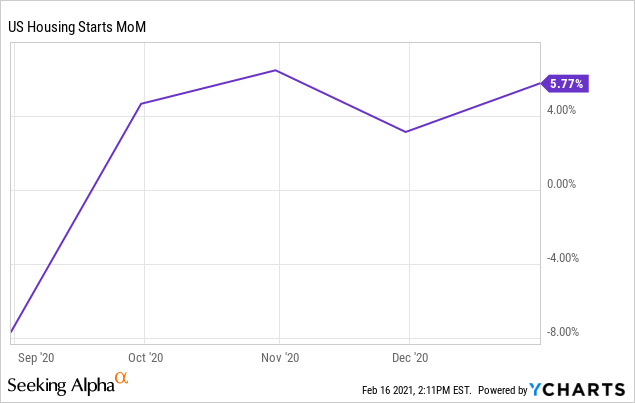 According to the US Census Bureau and the U.S. Department of Housing and Urban Development (announced Jan. 21st, 2021):
"Privately-owned housing units authorized by building permits in December were at a seasonally adjusted annual rate of 1,709,000. This is 4.5 percent (±1.4 percent) above the revised November rate of 1,635,000 and is 17.3 percent (±1.8 percent) above the December 2019 rate of 1,457,000."
This situation is similar in Canada. One of the stocks I featured in the article was West Fraser Timer (WFG). West Fraser is one of North America's largest lumber manufacturers with 45 facilities in British Columbia, Alberta, and the southern U.S.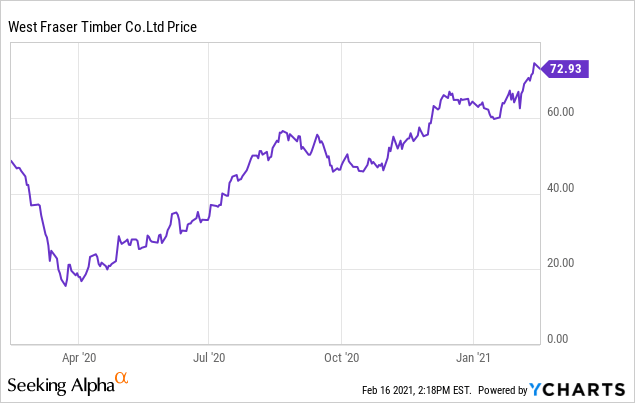 On February 1st, 2021 the company completed the acquisition of Norbord Inc., an international producer of wood-based panels (Oriented Strand Board) based in Canada. A unique buying opportunity exists in the short term as analysts work towards understanding the fundamentals of the now combined company.
Despite the pandemic, West Fraser (data prior to the acquisition) enjoyed a respectable 2020:
Sales of C$ 5.850 billion in the year
Earnings of C$776 million or 13% of sales
Adjusted EBITDA of C$1.460 billion
Cash provided by operating activities of C$1.295 billion
Invested C$241 million in capital projects
Year-end liquidity strong at C$1.619 billion and net debt to capital ratio at 2%
Norbord also reported record 2020 (in US dollars) results prior to the acquisition, with Adjusted EBITDA of $865 million for the full-year 2020 compared to $138 million in 2019. Again, the results were bolstered by high prices for OSB.
I estimate the stock is trading at only 3X EBITDA – this is one cheap stock. And the good news is that earnings corresponding to these (chart from tradingeconomics.com) high lumber prices are just beginning to drop to the bottom line.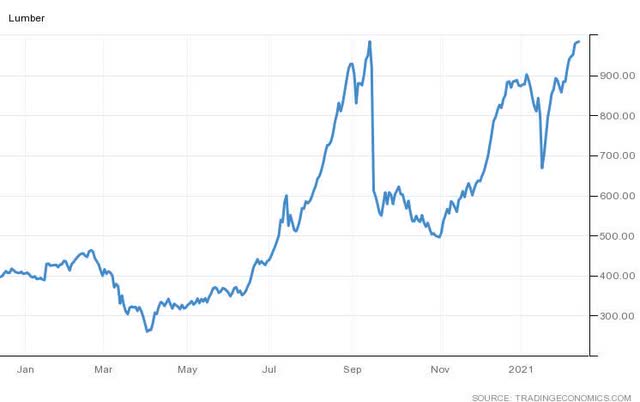 My own expectation is that WFG trades at 5X EBITDA or at a target price of $115 to $120 in just a few months time as the earnings power of the combined companies becomes more evident. My target does not take into account obvious synergies in terms of distribution and operations afforded by the acquisition.