Stock is up 80% from when I last published about it, with plenty more to go.
Fertilizer prices have been surging on the back of continued strong crop prices.
Global leader in potash, nitrogen and phosphate fertilizers.
When I last suggested Nutrien on March 27th, 2020 (NTR) (published on seekingalpha.com) the stock was in the neighborhood of $28 (when it was just another casualty of the coronavirus selloff). More recently the stock is slightly north of $50, but with a number of tailwinds likely to push the stock to a more compelling valuation.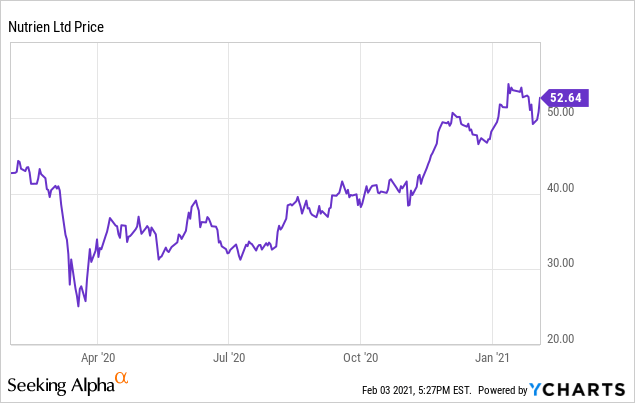 Although we are all familiar with the rebound in energy prices (which makes that sector especially attractive once again) few are aware that agricultural prices have also been rising. With prices for key cash crops like corn, wheat and soybeans rising to five year highs, demand and pricing for fertilizer will be very strong as we approach the spring planting season in North America.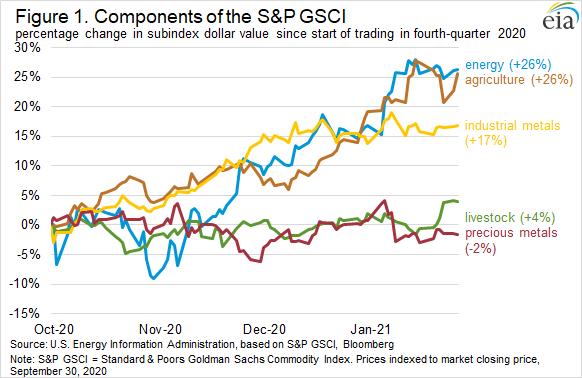 Nutrien was was established in January of 2018 by the merger of Agrium (primarily nitrogen fertilizers, but with a global retail network) and Potash Corp. (Saskatchewan, Canada has the largest recoverable potash deposit in the world).  The two predecessor companies traded on average at more than 2x book value whereas at current prices Nutrien trades at just 1.4x book value.  At 2.5x book value the stock should trade up to $95.  In the meantime, the shares yield 3.5 per cent and the company will likely soon resume it's share buyback program. Below is a quote from the third quarter earnings report:
"Nutrien delivered another quarter of solid operating results with strong fertilizer sales volumes and exceptional growth of orders through our digital agriculture platform, surpassing $1 billion of sales. Market conditions are improving around the world with higher crop and fertilizer prices, lower expected inventories and strong demand for crop inputs as we finish the year and enter 2021," commented Chuck Magro, Nutrien's President and CEO.
Nutrien Ltd. is expected* to report earnings for the fiscal Quarter ending Dec. 2020 on 02/17/2021 after market close. Based on what we know about industry fundamentals, this should be a very good earnings release.  In fact, it is likely that (like the June and Sept. Quarters of 2020) there will be another positive earnings surprise above consensus estimates.

The best time to own this stock is before the strong summer growing season (peak earnings usually occur in the 2nd quarter).